Mechanical PANEL-SCALE
for MDF, OSB, OSL, and Particleboards
Brochure:
PDF (2405 KB)

Material savings are achieved through accurate panel weight control
Too-high panel weight is result of too-high material input. Too-low panel weight will reduce panel quality.

EWS supplies robust weighing systems of high accuracy. The data will be shown on digital display or on PC monitor.
PANEL-SCALE also will automatically evaluate the board density by incorporating the data from the thickness gauge THICK-SCAN.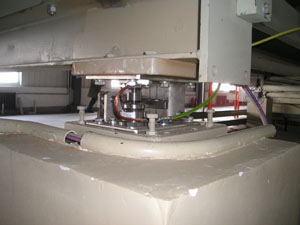 Load cell
Technical Data
Weight per load cell:
1,000kg or 2,200kg
[2,200lbs or 4,850lbs]

Number of cells:
up to 12 (typical 4)
Accuracy:
+/- 0.3% of range
Ambient temperature:
-30°C to +80°C
(optional: 110°C)
[-22°F to +176°F]
(optional: 230°F)
Options
Interface to thickness gauge
ATEX 22
Various Interfaces as ProfiBus, RS485, RS422, RS232
Remote maintenancel
"EWS Online Support"

Remark:
Alternatively a continuous non-contact board scale CONTI-SCALE is available. This system also shows the weight distribution lengthwise and crosswise the production. This modern solution requires a gap of only 335mm [13.2"] in the conveying system.