Laboratory Density Profile Analyzer DENSE-LAB X / ... also as

"light"

-version
for LVL, MDF, OSB, OSL, Particleboards and Plywood
Brochure:
PDF (4237 KB)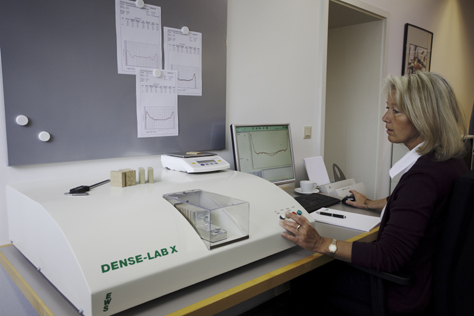 Video Presentation:


An ideal density profile is essential in the production of quality wood based panels. Beside quality assurance, expensive overdimensioning can be avoided.

The laboratory density profile measuring system DENSE-LAB X determines the density distribution over the sample thickness (perpendicular to the panel surface) on small samples with the usual dimension of 50 x 50 mm². The measurement is non-destructive and non-contact using X-ray technology.

The density profile of wood-based panels is a key quality characteristic for panel manufacturers and laboratories (R&D). The density profile is related to nearly all panel properties and it is influenced by numerous properties of the material and even the conditions of the manufacturing process.

Typical density profiles are characterized by pronounced density maxima in the cover layers, a homogeneous region in the middle layer, and a smooth transition therebetween. In addition to such ordinary measurements on MDF, chipboard and OSB, most other wood-based materials such as plywood or LVL but also solid wood, sandwich panels and modern composites can be examined. Wood fibre insulating materials also have a pronounced density profile, which is important for their later use. For this special panel types with low densities, an adapted variant, a "light" version, was developed (DENSE-LAB X light).

In terms of quality assurance, the DENSE-LAB X laboratory instrument provides important information for process optimization and allows to calculate the mean density of a sanded panel. In R&D divisions the reliable measurement results of the DENSE-LAB X make a significant contribution to the evaluation of material developments or raw material and process optimization. Measurement data are clearly displayed and compactly stored, can be integrated into customer-specific quality assurance systems and are available for external further processing in an independent format.

A key point to understand about the technology of Density Profile Systems for laboratories: They are alike and not alike.
Nearly all of today's Laboratory Analyzers use the same technology, which is x-ray technology. Also the measuring principle employed is the same. What are the special features which make the DENSE-LAB X different from other equipment on the market? Answer: Low x-ray energy, long life time of the x-ray tube and ease of use. A point to consider is that the DENSE-LAB X is the unit of choice for numerous institutes, universities and R&D labs, and usage by many students and scientists from these institutions over many years has proven to be very positive.
Technical Data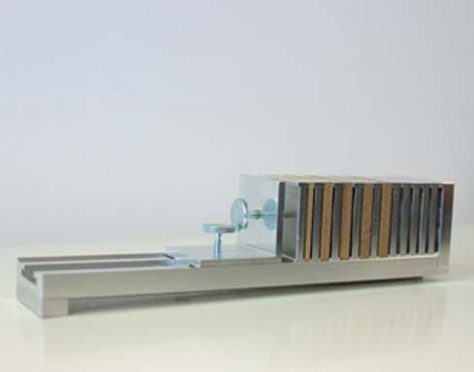 Sample Holder
Visualization
Average density
Maximum, minimum values
Average values
Detail analysis by zoom function
Comparison of profiles by overlay function
Long-term history files