Thickness Measuring System THICK-SCAN
for LVL, MDF, OSB, OSL, Particleboard, Plywood and others
Brochure:
PDF (3914 KB)
Continuous Thickness Measurement avoids waist of raw material and energy

Production of panels which exceed plustolerances results in increase of production cost. This also results in consumption of additional (unneeded) glue and war material while also extending the press time.

EWS thickness measuring systems which are located after the hot press help to optimize the process and to reduce the costs while, at the same time, assuring the quality standard.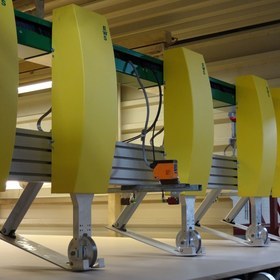 The time is long past since...

… panel thickness tolerances have been measured during production by handheld devices. Today, however, such measurement is carried out continuously online. In the majority of plants, quality control is not the first priority for new investment for online thickness measurement. The current trend is to achieve the enormous potential savings in wood raw material, resin and energy consumption.

Function
The measuring heads are mounted opposite to each other and indicate panel thickness continuously during production.
Installation Locations
After the hot press
Before / between / after sander
Visualization
Cross-, lengths profile
Trend per track
Trend min., max. and mean value
History function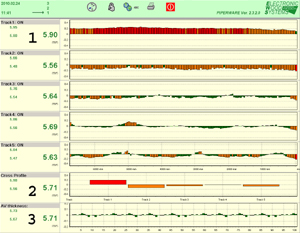 Thickness track
(Example shows five tracks)
Thickness profile across production
Average thickness
(Each bar shows one panel)
Technical Data
Data Evaluation by EWS "GAUGE-CONTROLLER"
Real time operating system
Network connection for visualization PC
"Reference-Track" for "Online-Calibration"
Options
Connection to PLC
Extendable to blow detection
Integration of board scale to allow density evaluation
"Online-Calibration" by separate "Reference-Track" located outside of the production line. (Recommended for endless production.)
Visualization Software
Single opening presses
Multi opening presses
Continuous presses
Sanding lines
Remote maintenance
"EWS Online Support".