Online Measurement of Panel Geometry
DIMENSION-SCAN
Brochure:
PDF
DIMENSION-SCAN
helps to evaluate the geometry of finished panels during production. The length, width and diagonal can be accurately measured and calculated. Using this method trimming and cross-cutting can be optimized and cut-offs minimized. Used is laser technology. Two 100mm [4"] wide detectors with high resolution scan the sideways panel edges. For the measurement of various panel widths these sensors can be adjusted across the production line by a motor drive.

Two more laser sensors are located inside the production line to detect the incoming panel edge and the end of the panel. Herewith the length will be measured.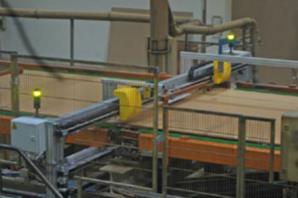 The waste of raw material can be enormous!

The conveying speed of panels in modern production lines increases more and more. Production steps are complex and dependent on each other. Online measuring systems and their logic interconnection help to assure the panel quality and – maybe more important – avoid over dimensioning. Unrealized dimensions of cut-offs often occur during trimming and cross cutting. Due to the continuous measurement of the panel width and the panel length with laser sensors the problem can be detected immediately. Thus over dimensioning can be avoided and reduced. A money payback of the DIMENSION-SCAN can be generated within 6 months. Due to a non-contact laser speed encoder the panel transport velocity can be variable (no slip of encoder).


Technical Data
Technology:
Laser
Support frame:
Aluminium
Accuracy:
Width: +/- 0,5mm [0.02"]
Length: +/- 3,0mm [0.12"]

Two adjustable laser sensors allow to measure panels of various widths.
Laser (top) and high resolution detector
(bottom) measure the panel edges.

Installation Locations
After cross-cut saw
After continuous press
After multi-opening press
Remote Control by "EWS Online Support"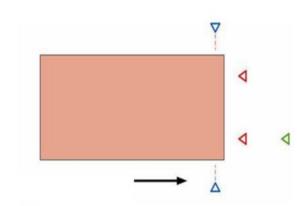 Two lasers (red) measure the panel length in two tracks. In combination with a laser (green) the conveying speed is measured. Both adjustable lasers (blue) scan the edges. Out of this information the diagonals and the perpendicularity will be evaluated.
Visualization
Panel width
Panel length
Panel diagonals
Features
Adjustable to various panel widths
No stopping of panel
Options
Interfacing to PLC and process control
Compensation of variable conveying speed
Remark
Veneer cannot be measured.